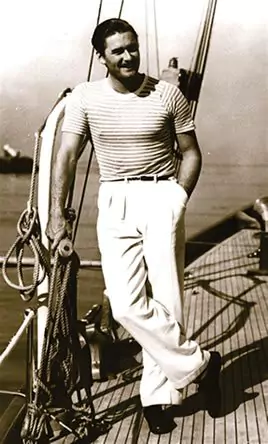 One hundred years after his birth in Tasmania, Errol Flynn reigns as the supreme swashbuckler in the history of film. To millions during the Thirties and Forties, Flynn epitomised glamour, action and romance in cinema classics such as "Captain Blood", "The Adventures of Robin Hood" and "The Sea Hawk".
If Errol's journey from the Hobart suburb of Battery Point to international stardom during Hollywood's 'Golden Age' was just as action-packed as those he portrayed on-screen, it was also more improbable – and certainly more controversial.
He had a charming larger-than-life personality with a unique mixture of charm, urbanity, recklessness, indulgence, swagger and non-conformity that bowled over everyone and made many people mad. He was the talk of the town and courts and newspapers couldn't stop writing and creating news about him. This led to Flynn himself burning out and dying prematurely at the age of 50.
But Errol Flynn will always be Tasmania's most famous son as this charming lad was the only one who could wield a sword, fill a pair of tights or enchant a damsel and do it with ease and style.
The Errol Flynn Centenary Committee invites you to celebrate the life and achievement of this complex legend.
With movies at the State Cinema in Hobart, memorabilia at the Tasmanian Museum and Art Gallery, swordfighting in the Elizabeth Street Mall, or partying with Errol's daughter Rory and grandson Sean at the Heart Foundation Gala Ball on the actual night of his birthday, it's the most fun you'll have in a 100 years!