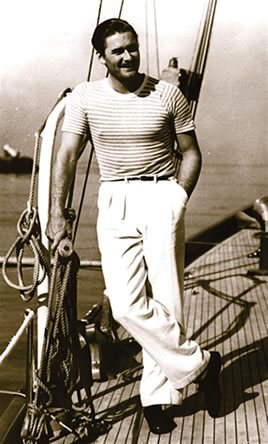 Centenary Celebration Activities
Additional Centenary Celebration activities will be announced in the lead-up to the festival launch on 12 June 2016. Stay tuned to festival station 936 ABC Radio Hobart for more information, activities and events, as well as interviews and special promotions. All changes and amendments to the program will be updated on www.flynncentenarycelebration.com.au.
Festival Guests
Errol Flynn's daughter Rory Flynn is the patron of the Errol Flynn Centenary Celebration, and is a Festival Guest along with Errol's grandson Sean Flynn. Rory is author of "The Baron of Mulholland". Sean is following in the acting footsteps of his grandfather, and is one of the stars of the series "Zoey 101" on ABC TV.
Event Bookings
Bookings for all events within this program are organised by the event presenter. Please check individual event listings for information on bookings.
Centenary Subcommittee
The Errol Flynn Centenary Celebration has been organised by an inspired group of volunteers which include:
Martin Blackwell, TasMusic;
Charles Bracewell, Events Tasmania;
Peta Dowell-Hentall, Tasmanian Museum & Art Gallery;
Carole Edwards and Brendan Lennard, Hobart City Council;
Sonia Finlayson, Forest Lodge Productions;
Amy Grubb, Tasmanian Perpetual Trustees;
Hon. Michael Hodgman QC MP;
Christopher Lawrence, ABC Radio;
Graeme Lynch, Heart Foundation;
Steve Randall, Errol Flynn Society of Tasmania;
Brian Ritchie, MONA FOMA;
Geoff Squibb, Australian-American Association.